Saturday, October 3 * 10am to 6pm * Benton Park (the Park)
CHALK ART FESTIVAL (10am)
Calling all chalk artists! Come decorate the sidewalks of Benton Park! Artist registration is morning of. It is $20 for adults and you receive a new box of quality artist chalk. Spaces are available for children also for $1 and they are provided with chalk pieces! Even if you aren't artistic, come check out these beautiful creations! Read more...
Visit us at the 2nd annual St. Louis Small Press Expo this Saturday!We will be presenting new artist zines by:Lyndon Barrois Jr., Lauren Cardenas, Rex Elliot, Paul Legault & Edo Rosenblith, Philip Mathews & David Johnson, Emmeline Solomon, Sopearb Touch, and Maria Xia alongside our existing archive of zines, poetry broadsides and gondo publication series books.
Saturday, November 7th 12pm – 7pm
In its fourth year, the Cherokee Street Jazz Crawl will offer the best of St. Louis' local jazz and blues in the cool bars, cafes, and shops that make up one of America's most unique streets. This free, open-to-the-public event is one of the most beloved traditions of the annual Nevermore Jazz Ball & St. Louis Swing Dance Festival. Save the date and stay tuned for band and venue line-up!
City of Night St. Louis is a grassroots, multi-disciplinary arts event with themes of art, history, culture and sustainability. It will feature in/outdoor art and installations on display; live performance in the form of sound art, theater, and dance; workshops; vendors;live art; and more.
We are working hard to create an event that is open and welcoming to all. Including, but not limited to: Artists and Vendors (to connect and create crossover/ audience share), and the general public of all ages/ gender/ sexual orientation/ religious affiliation/ race/ families/ youth. Read more...
CSBA Meetings are held on the 3rd Thursday of each month at 5:30pm. All business owners, residents, property owners, and anyone with an interest in Cherokee are welcome and encouraged to attend.
Information about the Cherokee Street CID will be provided during this CSBA Meeting.
Free Beer + Civic Engagement + Community
Join ALIVE Magazine on Tuesday, September 22, 2015 for Well Crafted, a carefully curated experience for the refined St. Louisan. The event will take place at The Luminary on Cherokee Street as part of St. Louis Design Week. Experience interactive programming throughout the space, opportunities to meet the makers of well-crafted, local goods in person and the premiere of the latest Spotlight Series film! Attendees will enjoy beer sampling and a whiskey flight, with delicious bites from local restaurants.
Entry is free, but guests must RSVP to be guaranteed entry.
Ticket link
Facebook link Read more...
 WHAT: On Monday, August 31, 2015, Mayor Francis Slay joined Wells Fargo, NeighborWorks America, and Beyond Housing to announce a $4.75 million program designed to increase home ownership.
Eligible St. Louis homebuyers will be able to apply for $15,000 down payment assistance grants through Wells Fargo's HomeLIFTSM program – an initiative effort to help revitalize neighborhoods through sustainable homeownership.  HomeLIFT program funds can applied to approved lender and renovation loans. Read more...
Fiesta on Cherokee 2015
Saturday, Sep 12th
11:00 AM – 11:00 PM
Sunday, Sep 13th
11:00 AM – 10:00 PM
Cherokee Street, St. Louis, MO
The Cherokee Street Latino Business Owners Association is pleased to announce the annual Hispanic Heritage month Festival celebration happening September 12th & 13th, 2015.  Enjoy local, national entertainment, fun activities, folkloric dances, and food vendors on Cherokee Street.
Music on two stages including:  Cana Dorada, Grupo Euforia, Desesperados del Norte, Banda Pen Asco de Zacatecas, Efecto Exclusivo, Los Patrones, Black James, MME, Trophy Mules, Tortuga, Bootie Grabbers Delight, Centipede, Hobosexuals, Light Music, Hudson and the Hoo Doo Cats, Rick Steves and DJ Makossa. Read more...
Labor Day, Monday, Sept. 7th, the Benton Park neighborhood will come to life with the Gateway Cup Bike Race and Labor Day 5K Run.
Registration is still open for the 5K Run.
Get all the details on the Bike Race HERE.
Next week, join The Luminary as they kick off their fall season with two new exhibitions: Sporadic Democracy in the main gallery, featuring work from many of their fall residents, and The Marvelous is Free in the entry gallery, curated by Anthony Romero and Matt Joynt. The exhibitions span context and media, featuring projects such as an expansion of Tania Bruguera's Museum of Arte Util, a hybrid diy parade float and temporary housing structure, and an expansive archive of the St. Louis Black Artists Group (BAG), an influential collective of artists, musicians and poets. Read more...
THIS SATURDAY
Richard Reilly
Scenes from a Journal
September 5 – October 3, 2015
Opening reception Saturday, September 5, 7-10 PM
at fort gondo
Robert Zungu
Windfall
September 5 – October 3, 2015
Opening reception Saturday, September 5, 7-10 PM
at beverly
UPCOMING

Poetry + The Politics of Joy
A collaborative event with the Pulitzer Arts Foundation
Saturday, September 12, 6-8 PM
Featuring poets Cole Swenson, Aaron Kunin & Renaldo Wilson
Plus, an interactive zine-making activity by Cole Lu
(at the Pulitzer Art Foundation)
gondo poetry 29:
LaTasha N. Nevada Diggs
Justin Phillip Reed
Friday, September 18 at 7 PM Read more...

Sunday, August 23 * 3pm-6pm * Benton Park Lake
Join us for another great concert in the park!
Featuring: The Mood Elevators
Beverages and BPNA Merchandise will be available for purchase.
Volunteers needed, please contact Mark Hasamear (mark.d.hasamear@gmail.com) or fill out the volunteer form:http://www.bpnastl.org/volunteer-opportunities/
NEIGHBORHOOD LEADERSHIP ACADEMY
Registration Open
10 Sessions September 3 through November 12
The Neighborhood Leadership Academy is jam-packed with information and skill-building, and NLA alums will tell you that preparing for sessions and keeping up with the topics can be work! But it's not textbooks and lectures and tough homework assignments. NLA participants engage in exercises that help them examine their leadership skills, visit neighborhoods to explore what's working, and build relationships that can last a lifetime
Click here to read about the facilitators and guest speakers:http://cwc.umsl.edu/nla/facilitators-spe…
Sign up for the NLA today and build relationships that will help sustain your neighborhood work! Register for the Neighborhood Leadership Academy today. Read more...
August Programs + Events
Upcoming Concerts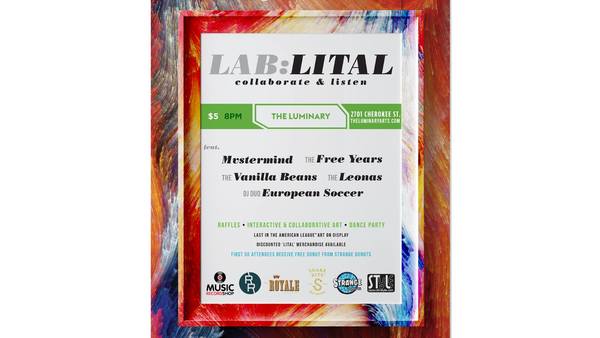 8.28: LAB: LITAL
The Luminary's musician-led project series, LAB, returns Friday, August 28 with Last in The American League. Tickets are $5 dos / adv.Doors at 8:00 pm, show 9:00 pm. Buy tickets here. Read more...
St. Louis Post-Dispatch Fall Arts Preview
Hosted by Go! Magazine and Feast
Wednesday, August 26, 2015 from 6:00 PM to 10:00 PM (CDT)
TICKETS $10 IN ADVANCE - $15 at door (if available)
Join the St. Louis Post-Dispatch for their inaugural event as they showcase the vibrant, ever-changing art scene in St. Louis!
They'll have a preview of the fall arts season taking place in St. Louis – as well as a sneak peek into the work of local, emerging artists. Guests of the Fall Arts Preview can expect: Read more...
Benton Park Classic
Monday, September 7 * All Day * Throughout the Benton Park Neighborhood
Labor Day is just around the corner which means the Gateway Classic will be riding through Benton Park. This is the fourth and final leg of the Staenberg Group Gateway Cup gets under way in historic Benton Park. This large and technically demanding course races through yet another one of St. Louis' most nostalgic locales.
There will be street closures and parking restrictions on Monday, September 7.   Race starts at 8:30am (Pre-$30 Day-$35)  * Kids Fun Run starts at 9:30am ($10) * Costume Contest * Gus's Pretzels Metal * Stroller & Dog Friendly Run * DJ Selkie will be rockin' the 80's *Register Here Read more...
Panorama Folk Art and Antiques invites you to celebrate their 25th anniversary with a showing and sale of "BIZARRE BRASS OF FOUR MILLENIUMS", or, "ARCANE ARTIFACTS AND INDIGENOUS INSTRUMENTS".
Coming to light after several decades, this collection of amazing brass instruments, created by the late John E. Maier, incorporate the traditions of the horned instrument with a definite twist and turn! Each is a hybrid of a traditional brass instrument reconfigured into entirely new and fantastical horns. Read more...
Go to the store, buy something off of this list, bring it to ArtBar, and we'll drop it off.  August 4th – August 15th.
2015-16 School Supply List
Kindergarten
1 age-appropriate book bag/backpack
1 box of crayons (optional)
1 pair of scissors (blunt tip)
3 pocket folders
5 #2 pencils (optional)
1 box of tissue
2 glue sticks (optional)
1 spiral notebook/composition (wide ruled)
First Grade
1 age-appropriate book bag/backpack
1 box of crayons (optional)
1 pair of scissors (blunt tip)
3 pocket folders
5 #2 pencils (optional)
1 box of tissue
2 glue sticks (optional)
1 12″/30cm ruler
1 spiral notebook/composition (wide ruled) Read more...
2016 CDBG Funding Proposals
to be accepted from July 6 – August 7 at 4 p.m.
RFP and related documents can be found on the
Community Development Administration (CDA) website, click here
~~~~~~~~~~~~~~~~~~~~~~~~~~
Technology Fair 2015
at Ballpark Village, 601 Clark St.
Tuesday, July 28, 2:00 p.m.-5:00 p.m.
FREE – click here to register
Learn how to grow your business with the best communication tools with interactive sessions on Video Conferencing, Data/Wireless Networking, Cyber Security, Wi-Fi Voice, Call Accounting/Reporting and Secure Messaging. And many more topics to help your business leverage technology to a competitive advantage. Keynote address by David Chavez, Chief Technical Officer, Avaya. Sponsored by STL Communications, Inc. Questions: Contact Kim Kelley, kimkelly@stlcom.com, 314-205-7150 Read more...
« go back — keep looking »