August Programs + Events
Upcoming Concerts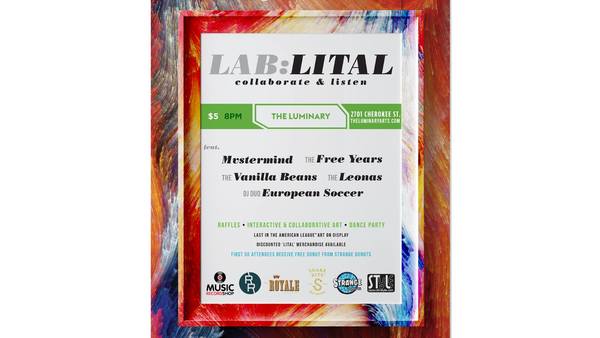 8.28: LAB: LITAL
The Luminary's musician-led project series, LAB, returns Friday, August 28 with Last in The American League. Tickets are $5 dos / adv.Doors at 8:00 pm, show 9:00 pm. Buy tickets here. Read more...
St. Louis Post-Dispatch Fall Arts Preview
Hosted by Go! Magazine and Feast
Wednesday, August 26, 2015 from 6:00 PM to 10:00 PM (CDT)
TICKETS $10 IN ADVANCE - $15 at door (if available)
Join the St. Louis Post-Dispatch for their inaugural event as they showcase the vibrant, ever-changing art scene in St. Louis!
They'll have a preview of the fall arts season taking place in St. Louis – as well as a sneak peek into the work of local, emerging artists. Guests of the Fall Arts Preview can expect: Read more...
Benton Park Classic
Monday, September 7 * All Day * Throughout the Benton Park Neighborhood
Labor Day is just around the corner which means the Gateway Classic will be riding through Benton Park. This is the fourth and final leg of the Staenberg Group Gateway Cup gets under way in historic Benton Park. This large and technically demanding course races through yet another one of St. Louis' most nostalgic locales.
There will be street closures and parking restrictions on Monday, September 7.   Race starts at 8:30am (Pre-$30 Day-$35)  * Kids Fun Run starts at 9:30am ($10) * Costume Contest * Gus's Pretzels Metal * Stroller & Dog Friendly Run * DJ Selkie will be rockin' the 80's *Register Here Read more...
Panorama Folk Art and Antiques invites you to celebrate their 25th anniversary with a showing and sale of "BIZARRE BRASS OF FOUR MILLENIUMS", or, "ARCANE ARTIFACTS AND INDIGENOUS INSTRUMENTS".
Coming to light after several decades, this collection of amazing brass instruments, created by the late John E. Maier, incorporate the traditions of the horned instrument with a definite twist and turn! Each is a hybrid of a traditional brass instrument reconfigured into entirely new and fantastical horns. Read more...
Go to the store, buy something off of this list, bring it to ArtBar, and we'll drop it off.  August 4th – August 15th.
2015-16 School Supply List
Kindergarten
1 age-appropriate book bag/backpack
1 box of crayons (optional)
1 pair of scissors (blunt tip)
3 pocket folders
5 #2 pencils (optional)
1 box of tissue
2 glue sticks (optional)
1 spiral notebook/composition (wide ruled)
First Grade
1 age-appropriate book bag/backpack
1 box of crayons (optional)
1 pair of scissors (blunt tip)
3 pocket folders
5 #2 pencils (optional)
1 box of tissue
2 glue sticks (optional)
1 12″/30cm ruler
1 spiral notebook/composition (wide ruled) Read more...
2016 CDBG Funding Proposals
to be accepted from July 6 – August 7 at 4 p.m.
RFP and related documents can be found on the
Community Development Administration (CDA) website, click here
~~~~~~~~~~~~~~~~~~~~~~~~~~
Technology Fair 2015
at Ballpark Village, 601 Clark St.
Tuesday, July 28, 2:00 p.m.-5:00 p.m.
FREE – click here to register
Learn how to grow your business with the best communication tools with interactive sessions on Video Conferencing, Data/Wireless Networking, Cyber Security, Wi-Fi Voice, Call Accounting/Reporting and Secure Messaging. And many more topics to help your business leverage technology to a competitive advantage. Keynote address by David Chavez, Chief Technical Officer, Avaya. Sponsored by STL Communications, Inc. Questions: Contact Kim Kelley, kimkelly@stlcom.com, 314-205-7150 Read more...
This meeting will serve as a community charrette and allow citizens, community representatives, politicians, and others to give feedback and tell us about their experiences on Gravois and what they'd like to see in the future. Volunteer architects and planners will be facilitating the event to allow for organized community feedback.
Come and share your thoughts and concerns for a Greater Gravois.
Can't make the meeting, give us your feedback online here:https://docs.google.com/forms/d/1FxVHG47YfmeLP1Xajj5nRFxGYOlYWrs6Dn-zIrQ7jc8/viewform?edit_requested=true
CSBA Meetings are held on the 3rd Thursday of each month at 5:30pm. All business owners, residents, property owners, and anyone with an interest in Cherokee are welcome and encouraged to attend.
Anne McCullough
Cherokee Street Liaison
anne@cherokeestreet.com
314.304.0932
www.cherokeestreetnews.com
Information about the Cherokee Street CID will be provided during this CSBA Meeting. Read more...
City of St. Louis – Community Development Administration (CDA)
is pleased to announce the implementation of the
First Phase of EGrAMS, the new grants management system
Online Training for Organizations Applyinng for 2016 CDBG Funding
Session 1: July 6 – 9 -11 a.m. RSVP here
Session 2: July 7 – 12 – 2 p.m. RSVP here
Session 3: July 7 – 3 – 5 p.m. RSVP here
Space is limited to 25 persons per session
Registration is limited to one person per organization
you may also view the presentation during the training times at the
CDA Offices, 1520 Market, Suite 2000
RSVP if you plan to participate at CDA Read more...
28 to Life Teen Summit @ 2720 Cherokee, July 25th from 10am-2pm.  Teens will be concentrating on community engagement and organizing Campaigns.  This open forum will give teens the opportunity to get issues out in the open and  express themselves.  The audience will be Police Department, Community Leaders, Local Politics, Business Owners, Circuit Attorneys Office, Educators , Gov't Employees/officials, FBI and more.
Break off into small groups, where  teens will work on  campaigns and work on implementing the campaigns throughout the neighborhoods. The catch is officers and other officials in attendance will be a part of the groups as well and they will work under the teens helping them complete there campaigns!!!
The target ages are teens 13-19
Every community is welcome !!!
Feel free to stop through
Saturday, July 11 * 10am to 4pm * Cherokee Rec Center, 3200 S. Jefferson Ave, St. Louis, MO 63118
The friendly face-off of neighbors continues as a monthly match up!! So join us one Saturday a month for a FREE, fun-filled day of play at the Cherokee Recreation Center in Benton Park.
"Communities that play together, stay together!"
** Cherokee Games are meant for participants of all ages and athletic ability. There is no fee to register, registration is encouraged at www.CherokeeGames.org but not required. Volunteers needed! **
Uke Go Girl! is currently accepting applications for the summer 2015 session which will take place at Nebula on Cherokee Street August 3-7 10am-2pm. is a FREE week-long intensive beginner ukulele workshop for girls 10-16 that blends instrumental, vocal, and songwriting education with a focus on empowerment, creative expression and building self-esteem. No musical experience is required. There is no cost for this workshop and ukuleles, cases and supplies are provided for girls in need. SPACES ARE VERY LIMITED APPLY ONLINE NOW @ www.Uke-Go-Girl.com
Family Movie Night
Friday, July 10th at 7:00 pm, Curby Church, 2621 Utah Street
Curby Church, 2621 Utah Street is hosting its FREE family Movie night,  We are providing free hot dogs, popcorn, snacks, and water….
Vacation Bible School
Monday, July 13-Friday, July 17 from 5:00-7:30 pm, Curby Church, 2621 Utah Street
What time is it? It Vacation Bible School time!!  Beginning Monday, July 13th – Friday, July 17th "Gangway to Galilee" will be the theme for Curby Church's VBS.  A light supper is provided from 5:00-5:30 pm and the learning and fun begins runs 5:30 - 7:30 pm.
What do your Finances have to do with Your Situation? Read more...
Do you believe in art's ability to empower kids and build community? Then you should meet the people at Cherokee Street Reach. They're working on the second annual youth art and leadership camp for ages 7-11, set for August 3-7 at The Luminary. Contact them to get involved and/or visit their GoFundMe to show support. You could also go to the Cherokee Street Reach Art Camp Fundraiser, this Sunday at Blank Space. Because after all, kids are the future.
Cherokee Street is looking for artists of all mediums to showcase their work inside businesses for Cherokee Nights Art Walk, Thursday, August 13th.
Present your art in one of the many businesses along Cherokee Street for an evening art walk.
Please email an artist statement or bio and an example of your work to cherokeefestivals@gmail.com by July 13th.
Lewis Reed, Alderwoman Spencer and the St. Louis Dream Center have ensured that hundreds of young people visiting Marquette Pool this summer won't go hungry! Food insecurity is a major issue in St. Louis, especially when school is out of session. This program starts Monday and then every weekday after from 1:30-2:20 adjacent to Marquette Pool (4025 Minnesota).
More information:
The Summer Food Service Program was created to ensure that children in lower-income areas could continue to receive nutritious meals during long school vacation, when they do not have access to the National School Lunch or School Breakfast Programs. Read more...
« go back — keep looking »