The news we have all been waiting for…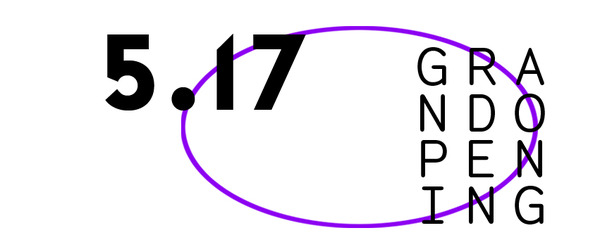 We are excited to officially announce our GRAND OPENING on May 17th, 2014! Save the date for the Grand Opening event, which will offer a first glimpse into the finished space with a free party featuring music, drinks, tours of the space and an art auction. You are officially invited to come celebrate with us!
With the opening of the new space, we are equally happy to share a complete rebrand, including a new logo, new website, and new mission statement that reflects the continual evolution and experimentation of the organization. We encourage you to read more about our methodology and thought-process leading to the rebrand on our blog. Read more...
Next weekend at fort gondo:
Saturday, March 8: Film Premiere of Sarah Paulsen's feature-length animated documentary, Elegy to Connie
(Doors open at 7:30 PM; film begins at 8 PM)
Sunday, March 9: Animation Workshop with artist Sarah Paulsen, 4 PM – 6 PM
Join us for these two events, planned in conjunction with Sarah Paulsen's current solo exhibition, Elegy to Connie.  Both are free and open to community members of all ages and skill-levels. Read more...
 About the Event
Lo-Fi Cherokee is a completely unique event conceived in 2012 that is best described as a hybrid event that brings music, video, social media and St. Louis city culture together. 14-18 local bands or solo acts from new unknowns to veterans of the scene will convene in various shops for live music video shoots over the course of a single day. When it's all over we will have produced as many high quality performance videos. These videos will not only showcases a sample of the diversity of talent of the STL music scene but, also reflects the energy of one of St. Louis' most dynamic commercial districts. These videos will live on indefinitely online as a testament of a compelling time and place in St. Louis history. Read more...
We need your help!
The Cherokee Station Business Association is in the process of applying for a 501c3 Nonprofit.  This nonprofit  will work in conjunction with the business association to create an inviting, diverse and sustainable environment on Cherokee Street and to promote arts, culture and creative innovation.  We need the community's help in naming the nonprofit.  Bellow is a list of suggested names.  Please respond by selecting up to 3 choices below, or with a new suggestion in the comments section.  The name for the nonprofit will then be chosen out of the top three suggestions, by the CSBA Board of Directors.  All suggestions must be submitted or voted on before 5pm Thursday, February 27th.

Reminder: The CSBA meetings have moved to NEBULA.
The CSBA Meeting, is this Thursday, February 20 5:30pm @ Nebula, 3407 S. Jefferson.  Happy Hour to Follow Meeting!
Agenda
BOD Meeting Minutes
1.16.14 Meeting Minutes
CID information 
Please email anne@cherokeestreet.com if you have any changes to the agenda; before noon on February 20th.
REQUEST FOR PROPOSAL (RFP)- POSTER DESIGN
IndiHop is a unique event showcasing two of St. Louis' most eclectic neighborhoods: Cherokee Street and The Grove.
Participating businesses in both neighborhoods provide samples of 50 different types of locally made brews.  As you travel from venue to venue, enjoy entertainment by an assortment of live musicians, artists and street performers. IndiHop provides shuttles, which connect you to the next neighborhood.  The 2014 IndiHop will take place on Saturday, May 17th from 1pm to 6pm. Read more...
By the Summer of 1861, St. Louis had become a fortified city. The St. Louis Arsenal was sandbagged and packed with two Union companies with rifles and cannons poised on all approaches. A pro-Confederate camp of nearly 700 volunteers was situated at Lindell's Grove where the current St. Louis University campus now stands. Southern sympathizing native born St. Louisans took pot shots from windows at German American Union soldiers as they moved through the city. Riots erupted and alarmed soldiers shot into crowds of civilians killing women and children. Divided over the issues of state's rights and slavery, the populace of St. Louis was a reflection of struggle occurring across the nation as it plunged into the Civil War. Cherokee Street was not untouched by the instruments of war. At the present site of Lemp Brewery was a large quadrilateral earth work that was one of ten fortifications surrounding the city. Equipped with four cannons, two trained on the river and two on the city, the earth work was simply known as Fort Number Two. Read more...
In conjunction with the Community Arts and Movement Project, Uke Go Girl! is pleased to announce they are now accepting applications for the Uke Go Girl! Summer Workshop. The 2014 session will be held at CAMP on Cherokee Street, in May. This is a beginner ukulele workshop for girls 12-16 and no musical experience is necessary. There is no cost for this workshop and ukuleles will be provided if the student cannot purchase one. Students will need to purchase minimal supplies. A list will be provided upon acceptance. There are a limited number of spots available and acceptance will be based on applications as well as a brief interview.
Please fill out is contact form with a valid email address to request an application –Community Arts and Movement Project Adria Nicole
This year for Valentine's Day Spokes Couriers have partnered up with Flowers & Weeds (Cherokee Street) and Sweet Art Bakery (Tower Grove North) to create a fun little package. Customers can order a bouquet, a half dozen cupcakes, and have it all delivered via bike to their Valentine. More info is here.
Cost: $55 per person
Date: 2/14/2014
Time: 6:30pm-9:30pm
Cocktail & Small Plates Hour: 6:30-7:30
Seating promptly at 7:30pm
Reservations Open From Monday 1/27 – Monday 2/10
Join us for a sit-down, candlelit dinner with a 5-course pre fixe menu on Valentines Day, 2014. Each course features a whiskey pairing by FTB in collaboration with Koval Distillery and will be introduced by Koval's Kelly Nyikes.
Enjoy conversation with your friends, lovers, haters or whomever else you decide to spend the evening with in a laid-back environment within one of Saint Louis's finest historical buildings. A violinist will provide ambiance from 7:30-9:30 with table service beginning promptly at 7:30. Read more...
Athlete Eats features meals that are
- Paleo friendly
- Gluten Free
- Vegetarian Friendly
- Organic & all natural
- Locally made
Stop in and check out the fresh juices,
smoothies & wheat grass,
along with a large variey
of artisan coffees
and loose teas brewed to order.
**

First 100 Customers

 through the the door this weekend (Jan 31 – Feb 2) will receive a

FREE 1/2 pint-sized smoothie
 Get all the info at
AthleteEats.com
The CSBA meeting location has moved to Nebula, located at 3407 S. Jefferson.  The next CSBA meeting is on February 20th, 5:30pm.  Here are the meeting minutes from the January meeting.
About the Cinco de Mayo festival
The annual event on Cherokee street is the largest Cinco de Mayo celebration in the Midwest, drawing over 30,000 in attendance.
The festival includes music performances on three stages, authentic Mexican refreshments, live art demonstrations, a one-of-a-kind grassroots parade and a variety of exhibitors and vendor booths.
Scope of Work
Design and print five hundred (500) 11"x17" posters for the 2014 Cinco de Mayo Festival.
Posters will include a minimum of two (2) printed colors. Read more...
(January 2014) St. Louis, Mo –Spoked Couriers, a St. Louis owned and operated bicycle courier service specializing in on-demand deliveries seven days a week, is now available and serving St. Louis City. This courier service intends to strengthen local communities by connecting small businesses directly to their customers.
Spoked Couriers owners Matt Hartman, Kayce Shelton, and Chris Vela are all regularly involved in St. Louis' growing cycling community by creating, organizing, and promoting events, rides, and races, as well as facilitating private/public partnerships to revive St. Louis' Penrose Park Velodrome. Read more...
To celebrate and remember the life and service of Rev. Dr. Martin Luther King Jr., the community of St. Catherine of Siena ANCC will host a Free Community Luncheon on Monday, January 20 from 11:30 a.m. until 1 p.m.
The lunch will take place in the lower level fellowship hall of the church located at 2613 Potomac St., the corner of Jefferson and Potomac in the Cherokee Street neighborhood.
As a community committed to social justice outreach, St. Catherine of Siena American National Catholic Church, an independent Catholic community, strives to reach out to help those less fortunate, rejected, discriminated and under-served, organizers said. Read more...
The Native Sound Recording Concert Series is meant to provide musicians and fans alike the opportunity to experience live music in an intimate studio setting. Honestly, too, we think we have a great space and want to use it in as many ways as possible. Shows will be recorded. Drinks will be available for purchase.
Aaron Lee Tasjan, Shelby Earl, and David Vandervelde will all be playing solo sets at the brand new Native Sound recording studio. Tickets are very limited so we suggest you pre-order them from the link above. We'll have drinks available. Doors at 8:30. Show will start at 9 sharp. Read more...
There is a CSBA Board of Director's Meeting this Thursday, 5:30pm at Nebula, 3407 S. Jefferson.

2013 was an exciting year on Cherokee Street; over 20 new businesses opened on the street, Southern Living Magazine named Cherokee Street "Next Great Neighborhood," The Fortune Teller Bar expanded and hosted a dumpster pool party, construction began on the historic Cinderella Building,  Lewis Reed opened a campaign office and meeting space at 2900 Cherokee, Nebula celebrated it's third anniversary with the addition of Fiber Internet and a new event space, WasabiNet was recognized at the International Summit for Community Wireless Networks, Dia De Los Muertos brought students from Washington University to the street for an altar contest and parade, Jack Dorsey returned to St. Louis to kick off Square's Let's Talk Event Series featuring Cherokee Street businesses at Casa Loma Ballroom, the CSBA created a standing offer for street performers to encourage and support busking in St. Louis and a tragic event brought community together and raised over $4,000 for the victim's families. Read more...
(Silver Spring) St. Louis has been on the world stage for centuries. But after industry left the city, many of the city's once-thriving factory and warehouse districts became Rust Belt boneyards. For Sam Coffey and his salvage crew, this urban wasteland is a goldmine ripe for plunder. Coffee and his crew break into abandoned buildings and rescue historic treasures doomed for a landfill and transform them into timeless pieces coveted by collectors in SALVAGE CITY, premiering on Discovery with three back-to-back episodes beginning Sunday, December 22 at 11 AM ET/PT. Read more...
keep looking »